Whether it is a good or bad experience, or what you like or dislike about the trip you joined, or the fun during the trip that you are already missing badly, feel free to share it with us!
Flores & Komodo Islands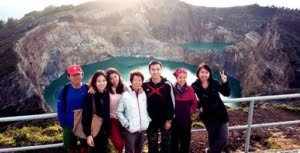 It was a great trip. I really like the people in the group. They are super generous people… kind, down to earth, fun and happy people. I am sure the local will be very pleased with our handsome tips… We gave tips so generously to almost everyone that provided us services except Tracy. :) We also make friends with everyone we met. I am sure the locals enjoyed our companion as much as we enjoyed theirs. The sceneries are fantastic of course… so virgin I would say, not commercialised at all. And we seem to be one of the very few groups that visit the places…feel like our private islands, private boat, private hotels, private restaurant, etc. And last but not least the pineapple is a must try!!!!! Best one so far… so juicy. Thank you so much Tracy for making this trip happened. Looking forward to future great trips of yours. :D
Shinta Narulita
9D8N South Sulawesi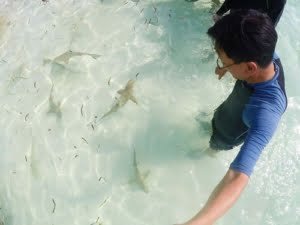 The bus trip was very comfortable and most preferred. Two minivans were spacious.
The Taka Bonerate sandbar was a magnificent..excellent place to visit. Snorkelling was very good. And the diving spot is good as well. Landscape Toraja excellent. Guides in Taka Bonerate was very good. Toraja guide was quite good. Group mixture very good.
Generally, no negatives point for me to add. But a fast boat to Bonerate would be a big plus.
James Lee
South Sulawesi: Take Bonerate & Toraja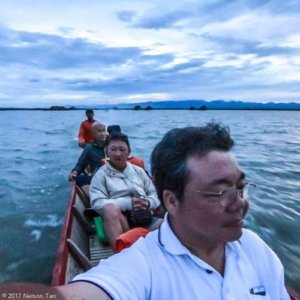 Met many new friends and they were great company. We had an excellent adventure leader throughout the trip who made the journey safe, enjoyable and fun. The local guides were also friendly, attentive and caring.
Luckily the fun parts outweigh the long and often tedious rides by planes, roads and boats, which are also opportunities to catch up on sleep.
It was also a great opportunity for me to shoot many photos. I enjoyed the trip. Thanks all.
Nelson
Taka Bonerate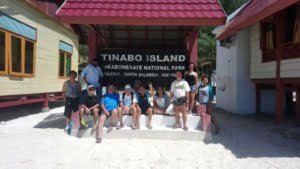 Great trip and organizer, clear itinerary and helpful organizer. Will definitely join another trip again
Helen Ong
Sulawesi: A Trip to Challenge All Expectations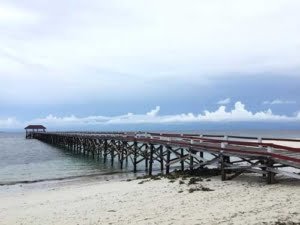 The Sulawesi trip (17-26 Nov 2017) was filled with more challenges than I'd expected, but on hind-sight perhaps it was better to be surprised. Otherwise I might not gone.
Travel was long and tough especially on the first leg to Taka-bonerate Marine Park. Flight to Jakarta came in around 2 am so hung out in airport till next flight at 8 am to Makassar, after which it was a short flight to Selayar, a big island, and then directly onto a boat for a 5 hr open sea ride the marine park. The night was spent in a room so hot it was impossible to sleep. But the sheer wonder of Taka-bonerate's pristine beaches, coral reefs and rustic villages more than made up for previous travails.
The return journey involved hours of ear-numbing engine roar, storm-tossed sea, a ferry ride and then a night in run-down hotel. That sandwich of bliss between 2 layers of hardship was for me something to really think about.
Toraja was beautiful for its serene green padi-fields and mist-clad mountains that surround them. All sorts of surprises awaited : a boat-ride on a lake to visit a fisherman, a quiet hotel which insisted on blacking out at dinner times, world-class coffee and of course death rituals that involve commerce, animal violence and community celebration and more.
It was a trip of amazing proportions for me. It stretched my coping mechanisms where the travel was concerned, and it enriched my perceptions of culture, nature and people. I don't think of such a trip as a holiday, or vacation. It was an experience, and like I said, the less prepared one is the better it'd be. Kinda an irony, but life is like that.
I love Tracy for her enthusiastic desire to share her country with us, and for always giving us the best she can find in terms of travel and accommodation in situations where standards can be vastly different from what we're normally used to. Where there were challenges they were good for my soul. And my travel companions were exceptionally like-minded, and that made all the difference!
Pauline Koe
7D6N Flores & Komodo Islands
It was hot & dry, but the sights were great. Appreciated the tour team's hard work. Thanks for the company, everyone!
Pauline Koe
Maldives of Indonesia, Seeing is Believing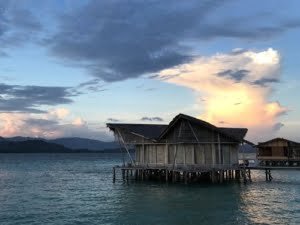 Just came back from my Cambodia trip and straight away joined the trip to Pulo Cinta (Love Island), also known as the Maldives of Indonesia. The journey to the island itself was very tiring (shifting between planes, cars and boat), but it was all worth it when we reached the island. Mind-blown by the people, services, the view, everything! (expectation was like "damn I am stranded on an island that is surrounded by nothing but ocean").
Went for scuba diving for the first time there and fell in love with the ocean.
Thank you Tracy for the trip ! This trip has definitely changed my perspective about Indonesia and now I am seeing it in a new light. Looking forward to the next trip :)
Steven
Pulo Cinta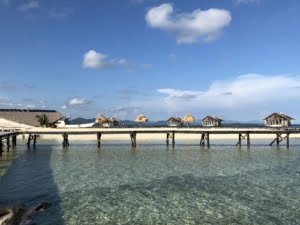 It was a great and relaxing trip! The journey to the island itself is quite tiring as the place is quite secluded area not a big fancy big city. The place is very clean i must say and you can spot many fishes in the sea right at the bottom of your cottage and You can watch sun set and sun rise right from your cottage. The tour guide Tracy is very experience and professional ensuring the whole trip went smoothly. The people in the group are very friendly as well and you will not feel left out of the group.
Thank you Tracy for the trip ! it was my 3rd trip with Tracy and many more to come. Looking forward to the next trip.
Silvia
Raja Ampat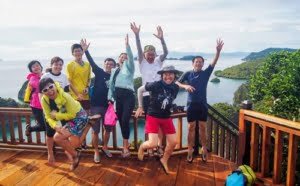 It is not easy to travel to Raja Ampat from Singapore as accesses to Raja Ampat are mainly through the domestic flight. Besides, there are not many established tour agencies in Singapore that organised a trip to Raja Ampat. Thankfully, we chanced upon Tracy from Peek Holiday that helps us in the itinerary and accommodation. This helps our group to enjoy the trip without too many worries on place to go and stay.
Cheers
Rudy Supargo
[6D5N] Raja Ampat – Wayag (New Year Weekend)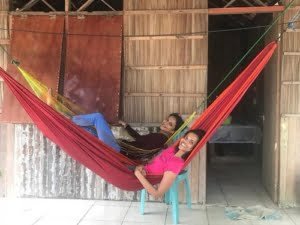 What way to say good byes to 2018 and say hello to 2019. I was at absolutely beautiful Raja Ampat. Its a tropical paradise, will let photos do the talking. Swiming. Snokelling and diving is the go here. Saw manta rays, turtles, sharks and so many varies of corals and fish. The trip was all the more special due to fun loving bunch of people who joined. A bit about Tracy Chong the fabtastic trip organiser. Why is she so great… she is caring, down to earth, fun and most of all makes you feel you are travelling with one of your best mates.
Dee
Togean Islands
Overall quite satisfied with the trip.
Raymond Kim
Raja Ampat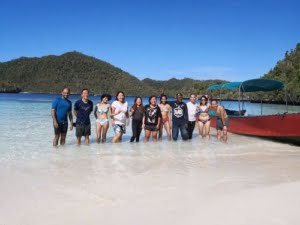 Awesome trip with Tracy! 5 stars in every aspect! she is a kind, fun and very humane trip leader.
Priya Raju
Mount Papandayan
Wonderful trip. Friendly and efficient organizer, good food and spectacular views.
Anonymous
We Are So Happy!
Just checked into our hotel. We fly back to Bali tomorrow. I am crying with tears of joy. I can't express how much Joe made our entire Flores experience. He is so lovely and so great at his profession. I can't thank you enough for putting this all together for me and my son and for connecting us with Joe. We are so happy!
Lauren Frayne
[3D2N] Sunrise Trekking at Mt. Papandayan
⭐⭐⭐⭐⭐
Madeline Kee
2D1N simple getaway off Jakarta, Pulau Payung
Met some new friends and they were great company. Tracy is a great leader, friendly, attentive and caring.
The food is simple and tasty. Thanks to Tracy who specially ordered a BBQ grouper and fried small crabs, well done and tasty.
Snorkeling around the island is not too bad, water is clear. A good site is Pulau Payung Kecil, can see coral fishes and various conch, ie spider conch.
Thank you Tracy for the trip, looking forward to the next trip.
Thomas Goh
2D1N Pulau Payung Island Getaway
Sunny weather, cool and clear water reflecting the blue of the skies was ideal for snorkelling, seeing corals and fishes. Afterwards, a sharing of local snacks and coconuts drinks to top it off – the bonding converted us from strangers to friends. It was a pleasant trip that became a fantastic one, all thanks to our organizer, Tracy :) she brought us together and transformed a simple island into a memorable place.
Thanks!
Doreen Tay
[3D2N] Sunrise Trekking at Mt. Papandayan
Enjoyed the hike a lot. Met a lot of new friends!
Christine Chow
[6D5N] Raja Ampat – Wayag (New Year Weekend)
⭐⭐⭐⭐⭐
Madhu Sukumaran
[6D5N] Raja Ampat – Wayag (New Year Weekend)
⭐⭐⭐⭐⭐
Wenchang
2D1N Pulau Royal and We Want More!
2 Days isn't enough for us to have a vacation with EAZYCATION. It's a Corporate Gathering, and not all of us have snorkeled before but with a great guide from EAZYCATION team, WE WANT MORE!
With an affordable price and an option to make a custom event that can suit anything you want for your vacation. Give it to EAZYCATION and they will make your travel-wish come true.
Thanks a lot EAZYCATION :)
Yunadi
3 Days Komodo LOB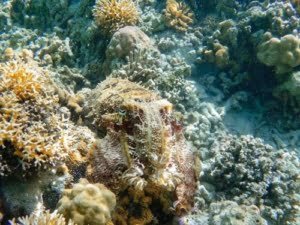 Komodo is a very beautiful place. It offers hiking, snorkelling and diving. The waters are very clear and marine life are plentiful. We saw Oceanic Manta, Turtles, Octopus, Cuttlefish, Razorfish, Lizardfish and many more.
We also did a hike to a summit to see the famous 3 colors beaches at dawn. And a short walk on Komodo Island to see the dragons and its natural habitat.
Very grateful for Tracy to organise this trip.
Thomas Goh
[5D4N]Explore Underwater of Bunaken & Lembeh (Christmas Weekend)
⭐⭐⭐⭐⭐
LXH
Let's Go Snorkelling in Pulau Seribu (Learning+Sharing Session!)
⭐⭐⭐⭐⭐
Dennis Lee
4D3N Komodo Islands
Hi Tracy,
Thank you for hosting us very well and accommodating everyone's needs.
You were superb.
The Group had a great time throughout and I'll mention with Piotr about the diving options.
I hope to see you again on the next trip.
Until then, take care and regards to the Crew.